For members: The new edition of Inside Elections.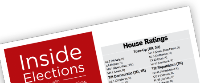 This issue dives into the U.S. Senate race in Iowa, where Democrats are targeting Sen. Joni Ernst (R-IA) in a contest that could decide the majority.
There are also additional thoughts on this week's elections in Kentucky, Mississippi, and Virginia. The edition also includes an update on Virginia's 2nd district, where Republicans largely held their ground in this week's legislative elections but are having trouble getting a top tier challenger to Rep. Elaine Luria (D-VA).
If you're not yet a member, sign up for an annual or monthly membership for instant access and many more benefits.

Save to Favorites