Just for members: The latest edition of Inside Elections.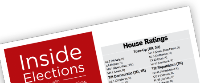 This issue looks at how few incumbents lost re-election across all of the competitive House, Senate, and gubernatorial contests, examines how and where GOP Senate candidates underperformed, and unveils Inside Elections updated Baseline numbers, which measure the partisan performance in each state.
The edition also includes a deep dive into the upcoming Georgia Senate runoff.
If you're not yet a member, check out our membership options for instant access.

Save to Favorites