Just for members: The latest edition of Inside Elections.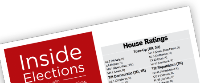 This issue includes a deep dive into California's 47th district, it's an open seat because Rep. Katie Porter (D-CA) is running for the Senate, but it's also one of the most competitive in the country as suburban voters figure out where they're going to align.
The edition also includes analysis of Washington's 3rd district, where new Rep. Marie Gluesenkamp Perez (D-WA) is one of the most vulnerable incumbents in the country, and West Virginia's 2nd district, where the battle will be in the GOP primary.
If you're not yet a member, check out our membership options for instant access.

Save to Favorites